California Adult Education Initiative (AEBG)
The Adult Education Initiative to Transform Education and Strong California Workforce Partnership
Triggered by Assembly Bill 104 (AB104), the statewide collaborative approach to adult education between the California Department of Education (CDE) and the California Community Colleges Chancellor's Office (CCCCO) set the stage for improvements and service enhancements for millions of adult students in California.
AB104 appropriated $500 million to the CCCCO and CDE to allocate funding for adult education through the Adult Education Block Grant (AEBG) for the 2015-16 fiscal year. The same amount was allocated in 2016- 17 and is proposed for 2017-18 to continue AEBG strategies. In 2016, an additional $5 million was allocated for technical assistance over a three-year period and an additional $25 million was allocated to address data collection. To administer the program, the CCCCO and CDE established the AEBG Office, comprised of staff from both departments to jointly lead the initiative.
Program areas accounted for under AEBG are adult Program areas accounted for under AEBG are adult basic education (ABE) and adult secondary education (ASE) and basic skills; English as a second language (ESL) and citizenship; career technical education (CTE) leading to a job associated with an in-demand industry; adults with disabilities; pre-apprenticeships; adult training for child school success; and workforce reentry for adults.
We are a proud partner in the national Educate & Elevate campaign which educates policy makers and communities about the importance of adult education. Click to watch our video.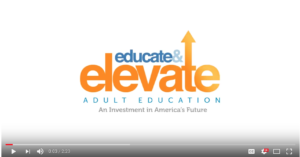 Please explore the 2017 AEBG Progress Report.