Introduction
Brands are all around us. When people talk about brands, they often refer to logos and slogans. But our brand is so much more. It tells a story about East Region Adult Education and its members (Grossmont Adult Education, GCCCD, and Mountain Empire Unified), everything we share in person, publish in print and online, and through social media. It reflects what we do and say, in a bright, bold, and dynamic way. It is how we talk about East Region Adult Education (or ERAE for short) to our friends, neighbors, business partners, and visitors to Grossmont Adult Education, to Grossmont College and Cuyamaca College, and to Mountain Empire Adult Education. It is the message we send to future, current, and former students, about the high quality we – staff, instructors, co-workers, faculty, colleagues of East Region Adult Education – strive to deliver in our classrooms, workshops, programs, and beyond.
Communicating a clear, consistent and compelling story to our many different internal and external audiences helps people associate our name – East Region Adult Education – with credibility and quality.
If our communication, if every message incorporates the key components important to our brand, we will make East Region Adult Education recognizable to all audiences.
Please help us build our brand and reputation for Education That Works. Follow the guidelines to create a unique look and feel for East Region Adult Education (ERAE).
Who We Are: East Region Adult Education. Education That Works.
a. All publications, in any media, are to be approved by the Director and the Grant Manager of ERAE.
b. The following information is to be included on all local and regional publications and material available to the general public.
ERAE Leadership
Robyn Wiggins, Director of Adult Education
Sally Cox, Executive Director Foundation for GCCCD (Fiscal Agent)
Ute Maschke, Grant Manager
Governing Board
Cindy Miles, Chancellor, GCCCD
John Valencia, Vice-Chancellor, GCCCD
Tim Glover, Superintendent, GUHSD
Theresa Kemper, Assist. Superintendent, GUHSD
Kathy Granger, Superintendent, MEUSD
Eric Lund, Chamber of Commerce, East County
Pending approval, the information above can be excluded from certain publications.
The information is not required to be included on posters or postcards being produced
by ERAE's branding committee.
c. All information needs to be readable, using a font size no smaller than 11, Futura
Font.
d. To ensure consistent representation, the logo cannot be altered or distorted in any
way. Do not change color, alignment, or spacing of the icon or text.
Horizontal
---
Primary

Horizontal
---
Alternate

Vertical
---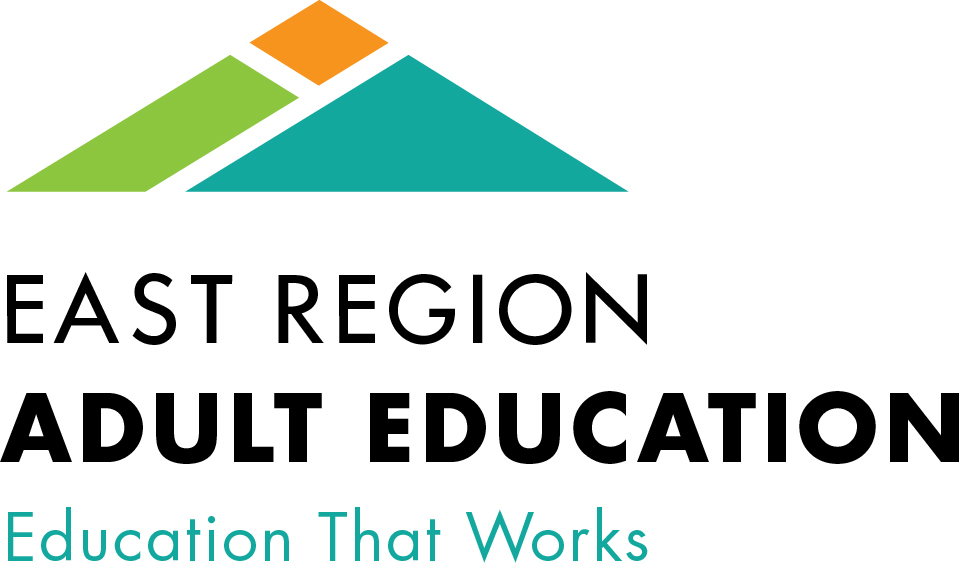 Full Color
---

1 Color
---

Black / Grayscale
---

Anatomy

---
Logo Clear Space
---

Minimum Size
---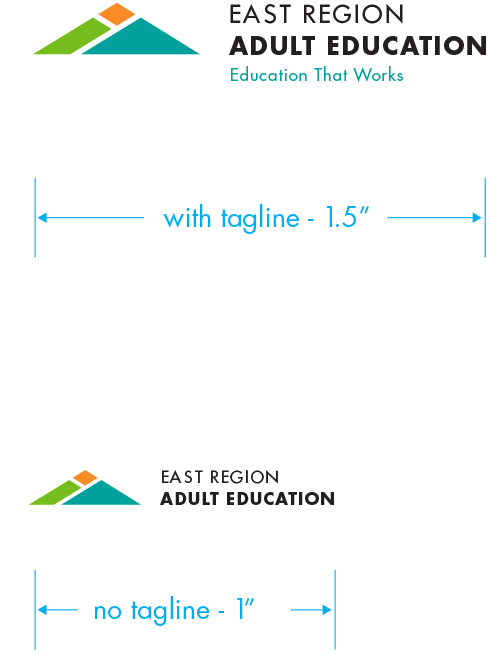 Incorrect Usage
---
Do not replace typography


Do not distort


Do not replace colors on symbol nor typography


Do not modify alignments


Lime
RGB 141,198,63
HEX #8DC63F
CMYK 0,50,100,0
PMS368C
PMS382U
Teal
RGB 0,167,157
HEX #00A79D
CMYK 80,10,45,0
PMS3272C
PMS3272U
Orange
RGB 247,148,30
HEX #F7941E
CMYK 0,50,100,0
PMS715C
PMS715U
Chartreuse
RGB 215,223,35
HEX #D7DF23
CMYK 20,0,100,0
PMS584C
PMS584U
Purple
RGB 161,84,161
HEX #A154A1
CMYK 40,80,0,0
PMS2582C
PMS2592U
Blood Orange
RGB 241,90,41
HEX #F15A29
CMYK 0,80,95,0
PMS166C
PMS166U
Blue
RGB 0,125,186
HEX #007DBA
CMYK 96,41,6,0
PMS7461C
PMS Pro Blue U
Primary
---
Futura Light
abcdefghijklmnopqrstuvwxyz0123456789
ABCDEFGHIJKLMNOPQRSTUVWXYZ
Futura Book
abcdefghijklmnopqrstuvwxyz0123456789
ABCDEFGHIJKLMNOPQRSTUVWXYZ
Futura Medium
abcdefghijklmnopqrstuvwxyz0123456789
ABCDEFGHIJKLMNOPQRSTUVWXYZ
Futura Bold
abcdefghijklmnopqrstuvwxyz0123456789
ABCDEFGHIJKLMNOPQRSTUVWXYZ
Secondary
---
Aaux Pro Light / Old Style Figures
abcdefghijklmnopqrstuvwxyz0123456789
ABCDEFGHIJKLMNOPQRSTUVWXYZ
Aaux Pro Bold / Old Style Figures
abcdefghijklmnopqrstuvwxyz0123456789
ABCDEFGHIJKLMNOPQRSTUVWXYZ
Stationary System
---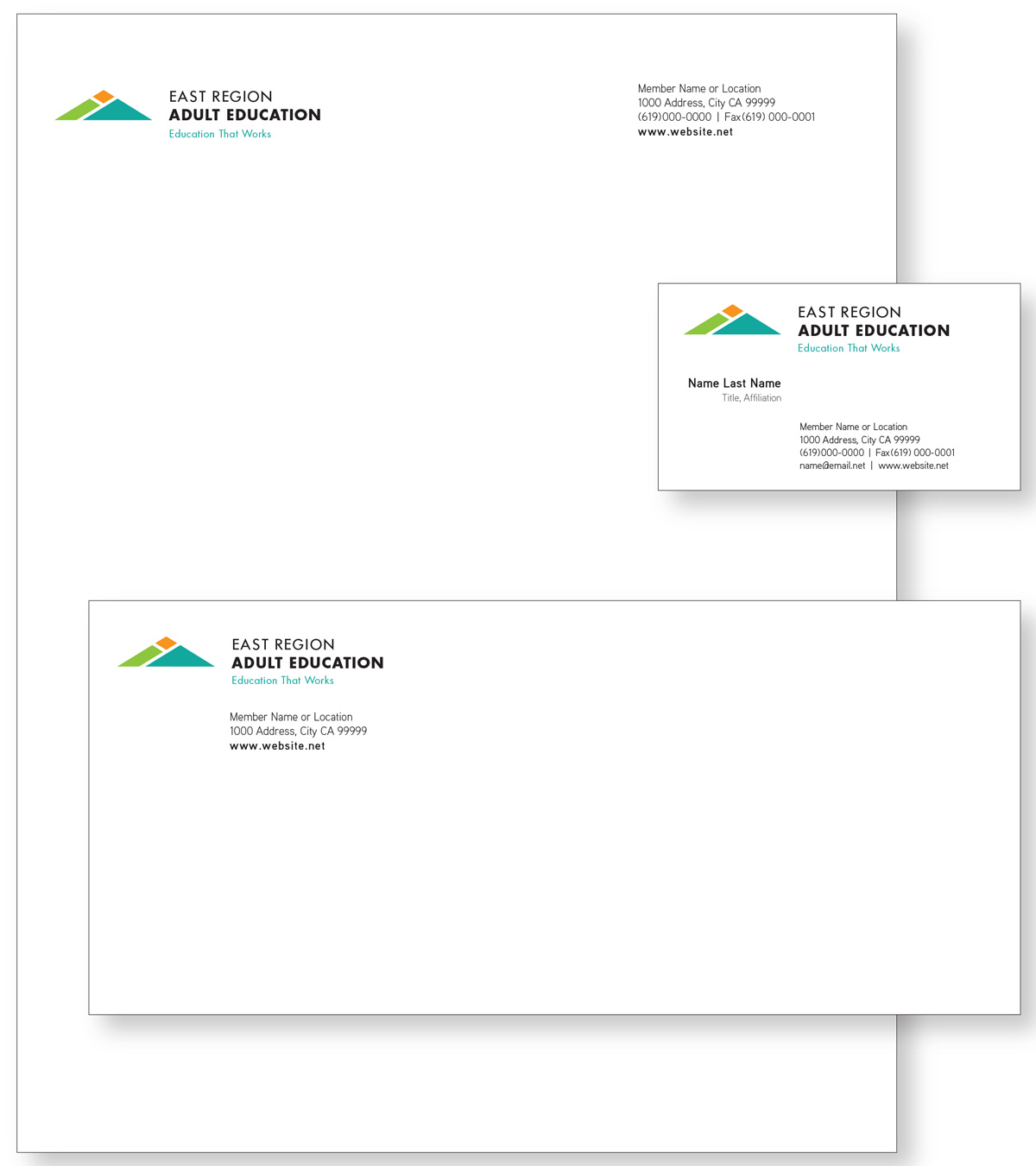 Presentation Folder
---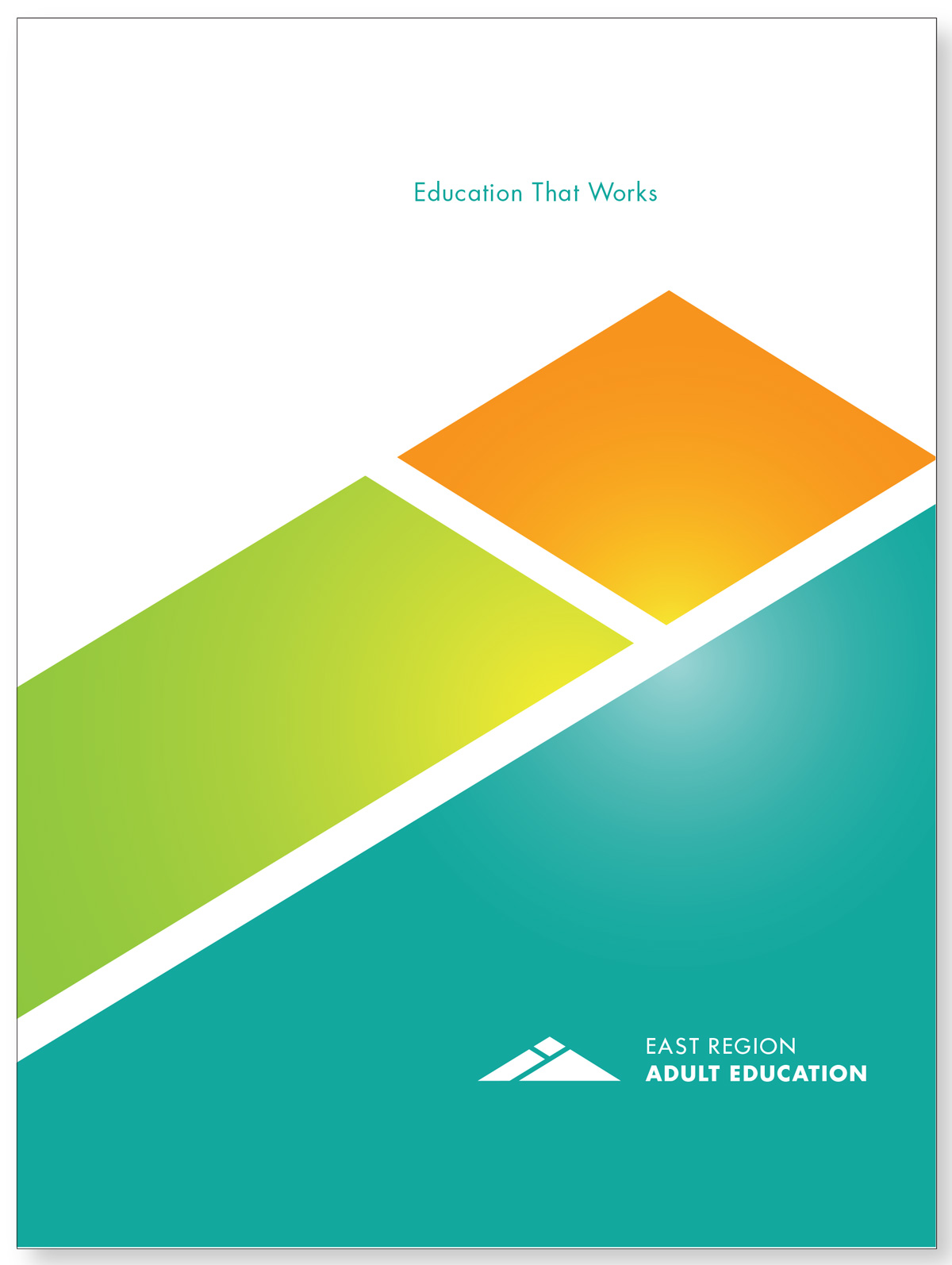 Photography and Video
High production standards and professional photography are critically important. For questions about photography and video, contact ERAE's branding committee.
Print Communications
Posters, event materials, banners, advertisement, forms, surveys, handouts, post cards, catalogs, bookmarks, and more – people see ERAE materials in many printed formats. ERAE provides guidelines but does not require a universal editorial style beyond the threshold of logo use. Programs are encouraged to use their preferred style guide. Before publication, all materials, in any media, are to be approved by the Director and the Grant Manager of ERAE.
Digital Media
Network Topology Icons (for printed collateral, video, multi-media, and power point) and web templates are to be approved by the Director and the Grant Manager of ERAE.
Social Media
Meeting our learners where they are is one of our core values. Reaching out to them through social media is invaluable. When using Facebook and Twitter, Instagram and the next great app or social platform, it is important to develop a voice that represents East Region Adult Education in a clear and convincing manner. Use ERAE or East Region Adult Education or East Region Adult Ed when naming an account. Use an identifiable image as the graphical representation. Be mindful of your audience and all co-workers whom you represent.
Copy Rights
Our logo is an important part of our brand, so are all our branding materials. They represent our identity and are valuable pieces of intellectual property. All rights belong to ERAE.